NEWS PAGE
October
| | |
| --- | --- |
| | Hillard Miller is Home |
Hillard Miller is home. He received good reports from his Drs. on Friday and will hear from his pelvis specialist on Wednesday. His spirits are good and we appreciate all the help and concern from everyone. The racers family is a strong one. Thanks everyone. Barb Miller

Send cards to: Hillard Miller 731 Harrison Ave Defiance, Ohio 43512
Oakshade Swap Meet

Oakshade Raceway is having a big swap meet on Sat Oct 23 Perfect time to pick up needed items for next year car Bring what you will not be needing and get what you are in need of

FUN DAY OF RACING
MILLER'S ACRES
OCTOBER 17, 1999 1:00 PM. TO 4:00 PM
LOCATED 3 MILES NORTH OF PIONEER TO MILLER ROAD AND THEN 1/2 MILE WEST.
BENEFIT FOR HILLARD MILLER WHO WAS SERIOUSLY INJURED, WHILE MOWING THE AREA IN PREPARATION FOR THIS ANNUAL EVENT.
BRING YOUR RACE CARS AND PRACTICE,HAVE FUN
4-WHEELERS, DIRT BIKES, DUNE BUGGYS WELCOME
GET WELL HILLARD!!!!!
September
Late Model Driver # 53 Hillard Miller was at his fathers farm on Thursday Sept. 16 and a farm tractor rolled over on him. He is in Bronson Hospital you can send cards to
Bronson Hospital
Trauma Unit
Hillard W. Miller
252 E. Lovell
Kalamazoo, Mi. 49007
UPDATE Hillard Miller had surgery again Friday, They put in 5 screws and a plate in his pelvic area and a titanium rod in his leg. If all continues to go well he can bring him home this week. This will require 24 hour care and alot of nursing. He still can't put any weight on his legs ( maybe in 6 weeks) We have to allow his pelvic area to heal more before he can try to walk. He will be at the Oakshade banquet!!!!!!!!!!!!!!!! It may take up to a year before he can walk properly ( worst case senerio) Knowing Hillard He'll be in the car in November for a race in Tennessee.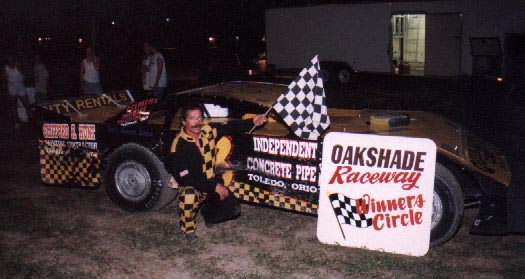 | | |
| --- | --- |
| | RODY SCHROYER ,TODD SCHROYER AND RON MILLER To race in Australia ( Oakshade Raceway ) |
RODY SCHROYER WAS ASKED TO COME TO AUSTRALIA AND RACE HIS CAR, PLUS ASK 2 OTHER DRIVERS TO DO THE SAME. GOING WITH HIM IS TODD SCHROYER AND RON MILLER.THE CARS WERE LOADED UP LAST WEEK AND JUST ARRIVED IN L.A. CALIFORNIA SO THEY CAN BE PUT ON A SHIP FOR A 37 DAY JOURNEY TO THE LAND DOWN UNDER.
THE GUYS FLY OUT ON THE 31st OF OCTOBER AND WILL FLY BACK TH6th OF DECEMBER.THERE WILL BE AUSTRALIAN T.V. RADIO, AND NEWS PAPER COVERAGE THRU OUT THIER STAY. WE WOULD LIKE TO WISH THE GUYS ALL THE LUCK AND SUCCESS IN THE WORLD