Stuhler Cruises To CONOCOCHEAGUE 100 at Hagerstown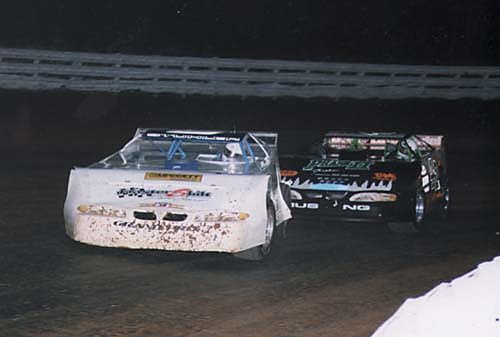 Gary Stuhler and Todd Andrews battle for the lead
(Photo by Robert Jacoby Story by Mark Stahl)
The STARS CONOCOCHEAGUE 100 has come and gone with Gary Stuhler of Greencastle Pa picking up his fourth straight Conocheague 100 in an impressive fashion. Instead of writing a story like everybody else does, I thought I would try something different so I will say a little about the 41 drivers that were hand fir the two-day show. The first 26 will be in the order they finished, then the rest of the driver will follow.
1.Gary Stuhler #19 Greencastle Pa - Gary started 7th and quickly moved to the front and was very impressive holding off all challenges. He timed at 20.098 on Friday and won heat #2. This is 4 in a row for this race and 2nd in a row at the track.
2.Steve Shaver #30 Parkersburg WV - Steve started 3rd after setting the fast time of 19.625 and won the first heat impressively. He battled for several laps with Chub Frank and Donnie Moran for second before moving by on lap 55 where he never really challenged Stuhler but he was also never challenged.
3.Donnie Moran #99 Dresden OH - Donnie started 4th and battled hard all night to hang onto third. Moran who won the STARS race at Hagerstown earlier in the year, could not repeat the same performance. He timed in at 19.861 and finished third in heat 1.
4.DJ Myers #70J Greencastle Pa - DJ started 5th and looked very impressive all night finishing a car length away from Moran who was 3rd . The young Myers showed everybody his talent by running with the best. He timed in at 19.954 and finished 2nd to Chub Frank in Heat 3.
5.Jeremy Miller #1M Littlestown Pa - Jeremy started 9th and had a spark plug wire come loose prior to the fuel stop, loosing a few positions, the crew fixed the wire at the halfway break and Jeremy went on to a strong 5th place finish the last car on the lead lap, He timed in at 20.299 and finished 2nd to Todd Andrews in heat 4.
6.Chub Frank #1* Sugar Grove Pa - Chub started 8th and was running 2nd by lap 25 but was challenged strongly by Shaver and Moran. Frank started to fade a little the last half of the race getting lapped late but still had a strong run. He timed in at 20.248 and won heat 3.
7.Mike Balzano #E1 Parkersburg WV - Mike started 16th by virtue of winning the B-Main. Mike moved up to 7th early and fell back a time or two but was consistent and like Frank also got lapped late in the race. He set the second fastest time at 19.770.
8.Rodney Franklin #01 White Post VA - Rodney started 17th after finishing second in the B-Main behind Balzano. This was not a typical week at Hagerstown for Franklin as he seemed to be a little off the whole weekend, He timed in at 20.321 and finished sixth in his heat which had Shaver, Davey Johnson, Moran, & Deese in it. Franklin was lapped with 20 to go and was probably happy to get 8th.
9.RJ Conley #71C Wheelersburg OH - Conley who made the field as a provisional, being 2nd fastest time not to qualify through heats or B-Main. RJ ran a good race and stayed on the lead lap until lap 80 and finished a respectable 8th in his heat which was the same one as Franklin.
10.Todd Andrews # 42 Eldred Pa. - Todd started 1st due to winning the dash, on lap 30 Todd restarted in the back and worked his way back after looking strong in the early going. He timed in at 19.832 and won heat #4.
11.Brent Smith #46 Mercersburg Pa. - Brent started 18th and got lapped early but held on strong to end up 11th . He timed in at 20.093. He finished fifth in his heat with Shaver and third in the B-Main.
12.David Williams #25W Avenue Md. - David started 20th and ran solid the whole race. He timed in at 20.664.
13.Aaron Scott #33 Newark OH - Aaron started 19th, He struggled in his heat race, but got things right as he made a strong late move to qualify in the B-Main. He timed in at 20.634.
14.Rick Workman #34 Stewartstown Pa. - Rick started 25th using a provisional. Rick had been hot at Hagerstown with a 2nd in last weeks 50 lapped and a win the week before. He timed in at 20.864.
15.Andy Anderson #25A Martinsburg WV - Andy had the 3rd fastest time 19.802 and finished 3rd in his heat.
16.Frankie Plessinger #9 Big Cove Tannery Pa. - Frankie used a provisional to get in the race. He came back to 16th after spinning out in front of the leaders. He timed in at 20.975.
17.Jeff Robinson #2P Greencastle Pa. - Jeff had the sixth fastest time and started 2nd due to finishing 2nd in the dash. Jeff had problems in the race coming in the pits. His time was 19.911 and finished 2nd to Stuhler in heat 2. Jeff was in teammate Bill Palmers #2P instead of his usual #3.
18.CS Fitzgerald #100 Lexington Va. - CS finished 6th in the B-Main to qualify. His time was 20.803
19.Nathan Durboraw #24 Hagerstown Md. - Nathan had a great run spoiled by a flat tire on lap 94 he had climbed to 3rd running the low groove, when bad luck struck. Nathan had a time of 20.411 and he finished 3rd in heat 2.
20.Roy Deese #05 Odenton Md. - Roy also had bad luck after running in the top ten the first half of the race. He timed in at 20.592 and finished 4th to Shaver in heat 1.
21.Charlie Schaffer #7 Hampstead Md. - Charlie had the 8th fastest time 20.018 and finished 3rd to Andrews in heat 4.
22.Booper Bare #21F Rockbridge Baths Va. - Booper driving Chuck Finch's #21F timed in at 20.718 and finished 4th in heat 2.
23. Jim Bernheisel #119 Lebanon Pa. - Jim was driving his own car at this STARS race, the first one he drove the Bob Vickers #18D. Jim timed in at 20.461, and finished 4th in heat 3.
24. Richard Irwin #44 Stephans City Va. - Richard used a provisional to get in
after a time of 20.122 and not qualifying through the heats.
25. Doug Burkholder #76 Chambersburg Pa -Doug had atime of 20.810 and also used a provisional.
26. Marvin Winters #40 Mercersburg Pa -Marvin's night was short dropping out on lap 5.His time was 20.572 and finished 4th in heat 4.
The rest of the drivers:
Davey Johnson #0J Greensburg Pa-Was scheduled to start 9th but elected to go to PPMS where he won.Time 20.230
Jeff Sheppard #19J Upperco,Md-Jeff is the driver of the Zemco #1 Sprint car was driving Stuhler's backup.Time 20.994
Greg Lucas #32L Whitesburg,Ky-STARS rookie point leader timed in at 20.156.
Rodney Combs #1 Harrisburg,NC-Veteren driver timed in at 20.729.
Russ Frohnapfel #F45 Columbus,OH -Another rookie contender his time 20.977.
Bryan Durig #80 Warren,OH -Yet another STARS rookie timed in at 21.663.
Ernie Davis #25 Martinsburg Wva-Time 21.328
Mark Elksnis #47 Catonsville Md -Time 20.664
Jessie Sheckler #51 Ruckersville Va-Time 21.800
The next drivers like Johnson did not return:
Les Hare 77 New Park,Pa 20.245
Lance Elson 17 Wellsburg,Wva 20.726
Alan Sagi #FOUR Hagerstown,Md No Time
Bob Salathe #RG3 Bedford,Pa No Time
Thomas Ware #W7 Cythiana,Ky 21.600
Buck Tomblin 41 Berryville,Va 20.804
Highbanks Notes:There has been 2 STARS races this year at the track and the best averages for the 2 races are:
1. Moran avg fin. 2
2. Shaver 4.5
3. Franklin 5
4. Stuhler 5.5
5.tie Miller 6.5
Balzano
7.Frank 7.5
8. B. Smith 8
9. Myers 9
10.tie Andrews 13.5
RJ Conley