Updated: 10/29/99 09:34 PM
THIS SITE CAN NOW BE FOUND AT http://www.cooldirt.com PLEASE CHANGE BOOKMARKS AND THANK YOU FOR YOUR PATIENCE. ANY QUESTIONS FEEL FREE TO CONTACT ME AT mstahl@innernet.net THANK YOU AGAIN. MARK
COMING SOON: I am having server problems which will be solved this week as I am getting a new server with a cooldirt.com domain. Sorry for the problems it will be taken care of soon. More driver profiles on the way: Tony Albright . Also look for Racetrack profiles on Thunder Valley Raceway, Hagerstown Speedway, Pittsburgh and many more.
This site is devoted to Dirt Late Model racing and has news, results, links,drivers lists,and pictures covering the late model scene so
bookmark this page as it will be updated often and enjoy.
If any body has any information , pictures , news or would like to write for this site please contact me at mstahl@innernet.net
Dirt Late Model Info
A-K updated A: 93 Drivers B: 249 C: 201 D: 113 E: 61 F: 93 G: 111 H: 197 I: 16 J: 54 K: 93 L: 104
(Click on letter to go to that driver list; more updates on the way)

Drivers or anybody with all the information about the driver can now fill out the Driver Profile Form. Information will be used for profiles on the driver. Click Here to go to the form. Check out a few of the profiles that I have compiled so far Click on profiles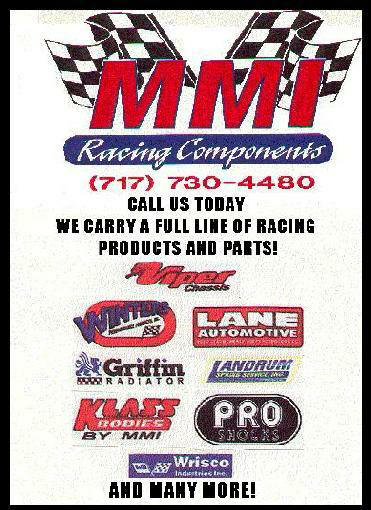 NEWS & PRESS RELEASES
Click on headline for the whole story.
CHECK OUT ALL THE NEWS at the NEWS PAGE!! Click Here

Hillard Miller is home and in good spirits. Go to news page for all the news and where to send cards.
Track Profiles: Challenger Raceway Volunteer Speedway
Driver Profiles:
Shannon Babb #18 Bobby Bertges #34 Carl Billet #33
Tim Cooper #99 Ed Dixon #50 David Hackathorn #5D
Matthew Hayes #69 Rick Heim #77 Steve Hillard #47
Eric Hons #45 Johnny Hughes #11 Brandon Kinzer
Mark Leach #66 Hillard Miller #53 Jeremy Miller #1M
DJ Myers #70J Tom Myers #70/50E Alan Sagi #FOUR
Jessie Sheckler #51 Rusty Schlenk #91 Marshall Shunk #99

Jeff Teets #100 Rick Todorow #93 Rick Workman #34
Oct 25
OVER 80 MODIFIED DRIVERS PRE-ENTERED FOR OCTOBERFEST AT HAGERSTOWN
Oct 24
TrueSpeed Fastwear.com is web's Newest and Hottest Merchandise Mart....
The Lernerville ARCH Fan Club Sportsmanship Award has been granted to driver, Bill Knepper plus World of Outlaws
Oct 19
Photos from MACS Fall Fest at Challenger
Oct 15
No changes in admission in big races in 2000 at Eldora
Oct 13
TAZEWELL SPEEDWAY "FALL DIRT TRACK CHAMPIONSHIP" CHANGES
Oct 11
SOUTHEAST MOTORSPORTS ESTABLISHES REGIONAL DIRT RACING SERIES (Speedzone.com)
Oct 8
Lernerville Speedway thanks fans and recaps 1999 season
Sep 30
STARS TO OPEN 2000 SEASON AT EAST BAY!!!
Sept 6
Fairbury American Legion Speedway Thanks all involved with the 1999 season
Aug 27
Eldora releases dates for the big races in 2000
Aug 22
The year 2000 will be the start of weekly Saturday race programs at Roaring Knob. Current plans are to continue with the Late Models, Pure Stocks, DWARF Cars,and an as yet undecided fourth division.

Click headline for the whole story. Click track for past results and information.
Oct 23
McDOWELL TAKES IT ALL WITH SHOOTOUT WIN, BONUS, AND HAT CHAMPIONSHIP
Top 5: 1. Dale McDowell 2. Ray Cook 3. Billy Moyer 4. Freddy Smith 5. Donnie Moran
Oct 8
COOK AND FRYE ON FRONT ROW FOR SHOOTOUT
Oct 2
BIRKHOFER TAKES FIRST HAT CAREER WIN IN MUSKOGEE
Top 5:1. Brian Birkhofer 2. Dale McDowell 3. Wendell Wallace 4. Rick Eckert 5.Steve Francis
Champion: Dale McDowell click here for top 20
Season Over
Sep 25
DAVEY J. TAKES SEASON CLOSER AT K-C!!!
Top 5:1. Davey Johnson 2. Mike Balzano 3. Chub Frank 4. Steve Shaver 5. Jackie Boggs
PR: STARS TO OPEN 2000 SEASON AT EAST BAY!!!
PR: 1999 STARS AWARDS BANQUET SET FOR NOV. 19!!!
Moran wins points championship and Aaron Scott wins Rookie title
COMPLETE 1999 STARS FINAL POINTS & STATISTICS!!!

(MACS)-Mid Atlantic Championship Series
Season Over
Oct 17
Lynn Geisler finishes 1999 MACS year with $10,000 win at the Fall Fest at Challenger and picked up the Championship as well
Top 5:. 1.Lynn Geisler , 2. Nolan Dalton ,3. David Scott ,4. Bob Close ,5. Dave Satterlee
Oct 16
King of the Hill Top 5: 1. Sam Stile 2. Matt Urban 3. Lynn Geisler 4. Nolan Dalton
5. Bob Close
Oct 10
Persistent showers postpone Fall Fest V until next weekend at Challenger Raceway
Oct 8
Johnson Rocket Rock Fall Fest Opener
Top 5:1.Davey Johnson 2.Chub Frank 3.Dave Satterlee 4.Dutch Davies 5.Sam Stile
Oct 2
Gary Stuhler wins 2nd MACS race in a row this one at Potomac
Top 5:1. Gary Stuhler 2. Rodney Franklin 3. Booper Bare 4. Scott Rhodes 5. Bo Feathers
Champion : Lynn Geisler Final Top Ten Points
(NALMS)-Northern All Stars Late Model Series
Ernie Barrow and Steve Barnett tied for Points as of September 19
click here for top 10
(SAS)-SOUTHERN ALL STAR RACING SERIES
Oct 16
Jason Smith Sweeps SAS Action At TST; Wins Super Late Model Event
Top 5: 1-Jason Smith; 2-John Jones; 3-Mark Mears; 4-James Cline; 5-Jamie Perry
Oct 15
Jason Smith Career First SAS Win At Talladega;Llewellyn Clinches Topless Bandit Title
Top 5:1-Jason Smith; 2-Danny Peoples; 3-David Gentry; 4-John Jones; 5-Mike Head;
Oct 2
Ricky Holland Play Waiting Game For 4th Annual Tennessee Fall Classic SAS Bandit Win
Top 5: 1.Ricky Holland; 2.David Millians; 3.Carson Burris; 4.Jamie Perry; 5.Mike Tinker
Jamie Perry Leads SAS SUPER DIRT LATE MODEL POINTS
STANDINGS also click for 1999 schedule plus previous winners Updated 10/18
Champion:John Llewelyn Final SOUTHERN ALL STARS TOPLESS BANDIT
LATE MODEL POINTS Updated 10/18
(UMP)-United Midwest Promoters
Wissota
DOAR DOMINATES INAUGURAL L M CHALLENGE SERIES
FINAL POINT STANDINGS: 1- Pat Doar 2- Duane Mahder 3- Joel Cryderman 4- Lance Matthees 5- Don Shaw
Other Races
Sept 26
Scott Bloomquist takes Illinois Fall Nationals Crown.

Check for your favorite track results below or click on tracks for past results and news and points.
Click on headline for the latest race results.

Season Over

Challenger Speedway

Season Over

Oct 16

Fall Fest ends Challenger season

Photos from MACS Fall Fest at Challenger

Sep 19

Dave Satterlee leads all 25 to win at Challenger
Top 5:1. Dave Satterlee,2. Sam Stile, 3.Gary Lyle,4. Bob Wearing, Jr., 5. Jason Carnahan
PR: Challenger to run Sundays in 2000
Points as of Sep 7
SEASON OVER
News: Bob Salathe will be the new Promoter starting next year.More .

Oct 9

DOG HOLLOW SUFFERS ANOTHER RAIN-OUT

Oct 2

Bob Wearing, Jr won his second late model feature at Dog Hollow Speedway Saturday night

Top 5:1. Bob Wearing, Jr., 2. Glenn Ray, 3. Dave Lyon, 4. Rodney Phillips, 5. Tony Raneri

The 1999 point champions are: Chris Harr/Tony Raneri

Oct 8

Rains forces postponement of UMP Fall Classic

Oct 2

Troy Green Takes Johnny Appleseed 30 Lap Sunoco ALMS win at Eldora

Top 5:1)Troy Green 2)Brian Stinson 3)Matt Miller 4)John Mason 5)Jerry Rice

PR: Eldora Press Release Sep 30

PR:Eldora releases dates for the big races in 2000 (8/27)

Season Over

Fairbury American Legion Speedway

Season Over

Fairbury American Legion Speedway Thanks all involved with the
1999 season

Oct 23 & 24

FRANKLIN LEADS ALL 150 LAPS IN TURBO-BLUE HUB-CITY NATIONAL AS STEVE CAMPBELL WINS HOOSIER TIRE MID-ATLANTIC RACE OF CHAMPIONS

Top 5: 1.Rodney Franklin; 2.Gary Stuhler; 3.Chub Frank; 4.Davey Johnson; 5.Bob Close

Oct 10

RAIN CANCELS SPRINTS & LATE MODELS AT HAGERSTOWN

Oct 3

RICK WORKMAN WINS RONNIE MCBEE MEMORIAL 44 LAP FEATURE

Top 5:1. Rick Workman; 2. Brent Smith; 3. Scott Haus; 4. Roy Deese Jr.; 5. Kenny Pettyjohn

Updated Hagerstown Drivers Roster (9/24) Driver Profiles will be added soon

PR: SMALL BLOCK MODIFIEDS WILL GO FOR $10,000 IN OCTOBERFEST

PR: OCTOBER LOADED WITH OPEN WHEEL EXCITEMENT AT HAGERSTOWN

Oct 2

Charlie Duncan closes out 1999 season with outlaw win in Ohio Dirt Blowout

Top 5:CHARLIE DUNCAN, J.R. GENTRY, BOB EICHOLTZ, AARON MIDDAUGH, MATT ABER

Sep 25

Billy Drake takes Salute to Kevin Roderick 200 Lapper!

Top 5:Billy Drake , Frank Reaber, Bob Pohlman Pohlman , John Provenzano, Ted Loomis

Sep 24

" A Tribute to Kevin Roderick" Opening Night Results

Top 5:(Feature 1) Frank Reaber, Johnny Garrett, Billy Drake,Skip Martin, Kris Patterson

Dave Norton wins the points championship Final Points



Season Over

Pictures of Points Champions click here

Greg Baumberger wins Muskingum championship for the second
year in a row TOP TEN

Justin Paxton wins Championship Final Points and perfect attendance

Season Over

Lou Bradich is 1999 PPMS Late Model Champion Top Ten Points

PR: Three way tie for championship at PPMS as Rick Heim wins the tiebreaker and will be recognized as the Limited Late Model champion.

Season Over

Season Over

Oct 5

Butch McGill wins his first feature of the season at PRP

Oct 2

Stuhler Dominates MACS Event to Win $6,000 at Potomac Speedway

Top 5:1. Gary Stuhler 2. Rodney Franklin 3. Booper Bare 4. Scott Rhodes 5. Bo Feathers

Jeff Pilkerton wins 1999 Points Championship Final Points

Season Over

Final Points Robbie Blair wins click here for top 10

Season Over

Season Over

Season Over

Oct 16

Ron Little added to his championship season by capturing his fourth 20-lap Late Model win of the season

Top 5: 1) Ron Little 2) Gene Wrightstone 3) Scott McCann 4) Bud Barton 5) John Ebersole

Season Over

Oct 16

Jason Smith Sweeps SAS action at TST

Top 5: 1-Jason Smith 2-John Jones 3-Mark Mears 4-James Cline 5-Jamie Perry

Oct 15

Jason Smith Still On a Roll at TST

Top 5: 1-Jason Smith 2-Danny Peoples 3-David Gentry 4-John Jones 5-Mike Head

Champion: Greg Skinner

Oct 2

1. Billy "The Kid" Ogle Jr. 2. Roger Best 3. John Thompson 4. Jack Trammell 5. Mark Leach

Champion: Billy "The Kid " Ogle

Season Over

Sep 25

Mike Blose wins Run What You Brung special

Top 5: Mike Blose, Rick Singleton, Andy Fries, Chuck Clise, Dave Norton

Robby Garlock wins points championship Final Points

Season Over

Oct 2

Sexton roars to seventh Volunteer Late Model victory

Top 5: Scott Sexton , Tommy Kerr , Dave Burks ,Duayne Hommel , Herman Goddard

Champion: Dale Ball Final Points Updated 10/16

DUE TO INCLEMENT WEATHER IN DAYTONA BEACH THIS WEEK-END, THE BUDWEISER LATE MODEL SHOOTOUT 100" WAS RESCHEDULED FOR FRIDAY THE 22nd AND SATURDAY THE 23rd OF OCTOBER.

Season Over

Ryan Markham Points Champion

You are
since Aug 1,1999
The CoolDirt Late Model Info Site is maintained by Mark Stahl mstahl@innernet.net and all information is as accurate as possible.